Open Thread
I'm hereby declaring this an open thread. What does that mean for you? It means you have the reigns for the day. You got a beef? Let's air it out. Are you a writer? Pimp your work or that of a friend. Are you a reader? Why don't you share a little bit about a book you've really enjoyed? Please provide links if at all possible. It doesn't have to be limited to just books though. Have you seen a good movie lately? Tell us about it.
My only request is that you don't flame each other. Good hearted ribbing is one thing, but don't get mean over anyone's opinion. Remember everyone has an opinion and some of them have two…
I'll start us off with a bit o' self-pimping.
I know by now most of you know about
The Dance
, but have you read this yet?
The Writing on the Wall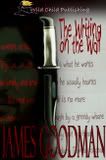 It's a gritty little tale about sex, death and rock and roll… and of course angry forgotten Gods. You can learn a lot from the writing on the men's room wall.
So come on, don't be shy. Sing from the rooftops or swing from the chandeliers. Let's hear what's on your mind.
Labels: open thread, pimping