The
RT Convention
was incredible. I met some fantastic authors and even more fantastic readers. I'm so tempted to name drop, but I met so many, that I'm afraid I might overlook someone and I definitely wouldn't want anyone to feel slighted after such an awesome weekend.
Everyone was very friendly, I was welcomed with open arms everywhere I went for the entire weekend. Have you ever been to an event where the everyone seemed to be split into cliques and any attempt you make to talk with the "wrong" crowd left you feeling immediately uncomfortable if not downright alienated? Well, you won't find any of that with this crowd.
I met and tried to spend as much time as possible with several of my fellow RP authors and of course, the publishers Leigh and Jess. You couldn't ask for a better group to be part of. These ladies were all fantastic and each brought a unique lovable attribute to the gatherings that made each affair more memorable than the last. I can't wait to hang out with them again.
They had a wide assortment of workshops for both seasoned veterans and aspiring authors that were not only informative, but also quite entertaining to boot. Both Friday and Saturday evening found us shaking a leg in the ballroom and indulging in a wee bit of drinking.
On Saturday after the dance, we moved to the lobby bar and wound in a rather engaging conversation with a young man who invited us to a party. Being the adventurous type, I said "oh hell yeah!"
It turns out the young man was one of
Heather Graham's
sons and the party was in their suite. It was very cool, but as the evening wore on, I felt bad for them. It was quite clear that they were getting tired, but the party showed no signs of slowing. Ah, life on the road…sometimes it throws you curve balls, sometimes it just throws you.
I'm in the midst of trying to get caught up, so I must keep this short, but before I go I must do a touch of bragging.
My first book signing for
The Dance
went very well. How well? I sold my entire inventory and well before the book fair was over. Here is a pic from just before they set the readers loose on us. :D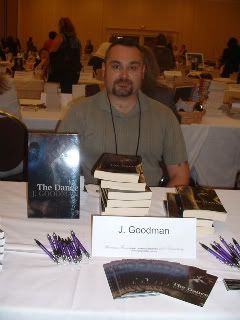 And now, I must get back to work. So, what did you do with your time while I was away?
Oh, and please swing by to see
M.E. Ellis
today. She has posted a fabulous review of
The Dance
on her blog.
Labels: convention