Avast ye Matey!
Well, we're back. I think I may need a vacation to recover from my vacation. As most of you know, we booked passage on the good ship
Carnival Conquest
. We set sail from Galveston, TX and made our way to Jamaica, Grand Cayman and Cozumel.
With some of the many troubles I've had with airlines lately (long story), we decided to drive down to Galveston. With 28 days of straight rain, we had a decision to make: Speed, Comfort or…Boat.
The boat, though tempting, wasn't really practical as there has to be some places between here and there that haven't flooded lately. Besides, we were about to spend quite a bit of time on a boat as it was. We decided to go with the Trailblazer. Vacations are about comfort, no?
We arrived at the terminal a good two hours before we were instructed. I've heard horror stories about the lines just to get aboard. The stories were true. It took nearly three hours to get through the luggage drop, parking, security, check-in and actually boarding the ship. Having said that, we hardly noticed how long it took. There were just so many people to talk to and quite frankly, our excitement gave a major boost to our patience.
Once aboard, we made our way to the upper decks to check out the view. My wife obviously thought she was still dreaming. Have I mentioned how much I love her? I will.
I must admit the pure grandeur of the ship felt a little dreamlike to me as well.
On our first full day at sea, my wife excuses herself shortly after we slip up to Lido deck (where the pools and several restaurants are located). I assume it is for personal reasons, but alas…she wanted to enter me into a contest. What contest, you ask? The Hairy Chest Contest. I was forced to bare my hairy chest and dance my way down a flight of stairs being "as sexy as possible".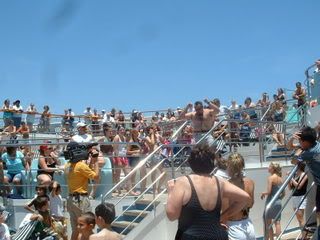 There were cheers, screams and a lot of laughs. I've never felt more like a piece of meat in all my life. It was great. After I made sexy time on the stairs, I was properly introduced to the masses.
It was all in good fun and I got a medal out of the deal. What I didn't realize at the time is that they we're taping the whole ordeal. The played the video every hour on the hour for the entire cruise on every TV on every deck and it was also available on the TVs in the room. Not a day went by, that people didn't come to me to ask if I was the guy on the video, then promptly commence rubbing on my chest. My wife thought this was hilarious.
They had a Cigar Bar onboard, that was just an absolute work of art in itself. Murals, statues, intricately carved chairs and tables and a live soft jazz band gave this place a wonderfully decadent feel. I tried to take several pictures of the room itself, but for ambiance, they maintained low light. Here is one of us in the one area where the lighting was adequate to see the picture.
Our first stop was in Jamaica, mon. We elected to spend our excursion on the beaches of Sandal's Resort. It was a good choice. Just look at these:
Before we left the resort, we we're treated to a proper dance lesson. They asked for volunteers and of course, my wife put us in the mix. I now know how to do the Dollar Wine and I yes…I can "drop it like it's hot".
Our next port of call was Grand Cayman. This for me was the highlight of the trip.
We drove ourselves to a wonderful place to snorkel.
After frolicking around the coral reef, we were guided to a wonderful place called Stingray Island. This is a large area of sand covered with water that is about waist deep. It gets its name because dozens of playful stingrays make there home there. We were able to feed them (they suck squid right from your hand), hold them and just enjoy letting them swim around and often up against us. I've never experienced anything quite like it. If you ever have an opportunity, I highly recommend you see this event first hand.
Oh, and what is a trip to Cayman without stopping at Margaritaville?
Our last stop on the cruise was the island of Cozumel. We stepped off the boat and onto a ferry to carry us over to Playa Del Carmen.
We then took a rather nice bus to visit the Mayan ruins in Tulum. Our guide was very knowledgeable and I found the history fascinating. I'm running low on room here, so I'll have to save some of that for another post.
There is another beautiful beach that boards this Mayan city on the Cliff side.
All in all, this ranks as possibly the most memorable vacation I've ever had. Now, if you'll excuse me, I need to get to work on the set of revisions to
The Dance
that came in while I was away. No rest for the wicked and all that.
So, what did you do while I was away?
Labels: vacation