This is a tattoo on my left calf: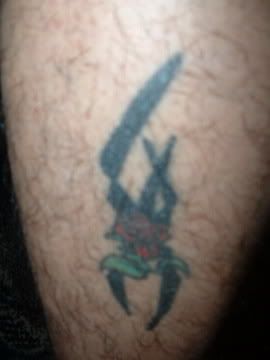 This is a completely unrelated thought to ponder:
The sweet sensation of water cascading down the back of a man oppressed gives off the fragrance of freedom. For that one glorious moment he forgets where he is as the rain pounds out a steady rhythm that beats his mind into a trance. He is free to ponder the plights of his life. The rolling thunder instills the feeling that the rain will eventually wash away the sins of the world, making it a new place, a safe place, a place of opportunity. Freedom is a fragile thing. Never do anything that will allow someone take it away from you.
Happy HNT!
To play along, click this button and visit Osbasso.