It was a brisk morning at Mohawk Park. I checked the temperature right as we left the house and it was a balmy 41 degrees. That, my friend, makes for a great morning to have a run. Yes, today my wife took on the Turkey Trot. It is a 10K race, weaving it's way through a scenic route. Notice that I said my wife. I haven't participated in many races this year and I don't intend to start now that it is face-numbingly cold. My wife is either very dedicated or a whole lot of crazy. Perhaps, it's a little of both. All kidding aside, I admire her tenacity. She looks at running the way I do writing. It's become and obsession. A day without it, leaves us feeling a little unfulfilled. We feel guilt for the wasted opportunity.
She ran like a gazelle being chased by a lioness. If she keeps improving at this rate, it wouldn't surprise me to see her start placing in opens. It is enough to boggle the mind. Proud doesn't even come close to capturing the feeling I have for her accomplishments. She finished the race in just barely over 53 minutes. It was unbelievable, a personal best.
Our friend, Kim, also braved the cold. She came in at an hour and four minutes. What a trooper.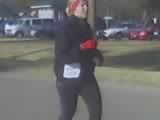 I would like to send out a resounding "Yay!" for both ladies. Good job to you both.
Luckily, we had the hot tub for them to soothe their aching muscles in now. I knew there was a reason I put that thing in. : D
Anyhoo, I will keep this short (yes, I am thinking about those wasted opportunities) and turn my attention back to working on
The Dance
. I would really like to finish this story by the end of the year.
I hope everyone is having a marvelous weekend.