The mission: Infiltrate biker rally without exposing myself as the geek that I truly am.
Hey, I've seen
The Wild One
and Marlon Brando, I am not.
"Perhaps if you buy a T-shirt with some sort of motor cycle logo on it," my wife suggested.
"Oh, I could dress up like a cowboy…"
"What?
"You know like that guy in
Easy Rider
."
"It's going to be 100 degrees out there; you will want to be dressed as cool as possible."
"So, something like this: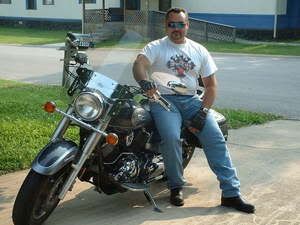 "Oh, I want to go to," my son says.
"but you are too small: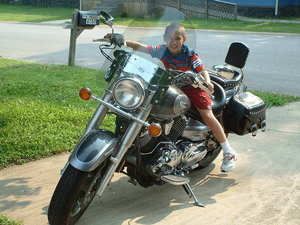 so you will have to spend the day with Mema."
We get to the rally and there are bikes everywhere.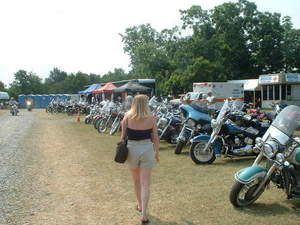 It is really quite impressive. By 10 a.m. there are over 7,000 visitors.
It was incredibly hot, so we decided to partake of some frosty beverages.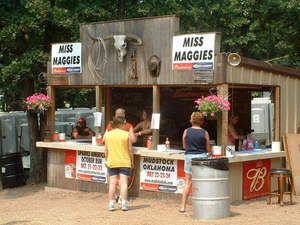 My wife snapped a shot of some painted people laughing at me. "Your husband is kind of a geek, huh?"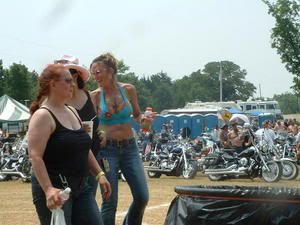 "Damn, maybe if I buy one of those head wraps, it will help me blend in."
"It's still a little dorky, but at least your head won't get burned," my wife dutifully informed me.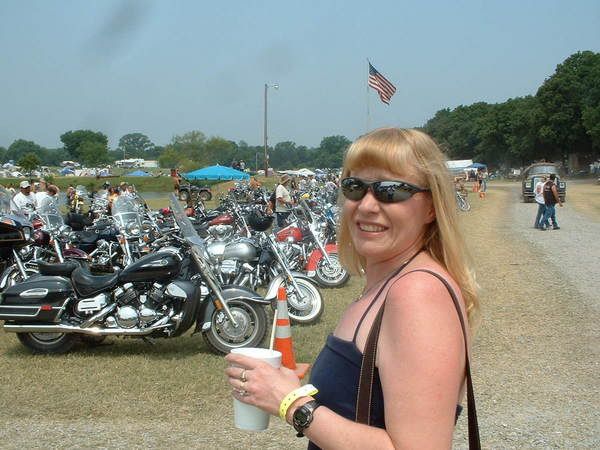 Of course, she looked smoking hot as always. There is no chance of
her
ever being exposed as a geek.
"Whoa, are those guys pushing kegs with their bikes?"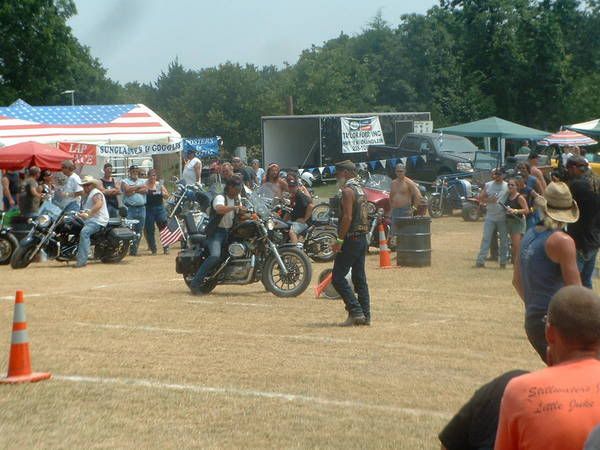 "Yeah, it's called a keg race. They have to be the first one to push the keg over the finish line with out it shooting out to either side."
"We need volunteers for the keg toss," a voice called out over the PA system.
"Oh, you should try that," my wife urged.
"Uh, sure."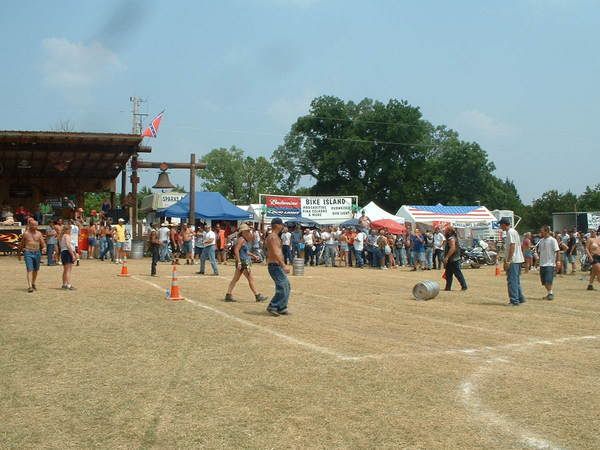 I didn't win, but I did toss it far enough that the Mrs. was quite impressed.
Everything was going pretty smooth, when out of no where Tony makes a rather bold announcement. "Ladies and gentlemen, I believe that a geek has infiltrated out cool brotherhood. Be on the lookout for a bumbling idiot in a white T-shirt and a grey skull cap that is trying to pass himself off as the real deal."
So, he had some of his bodyguards stand on the stage and scour the crowd to find me.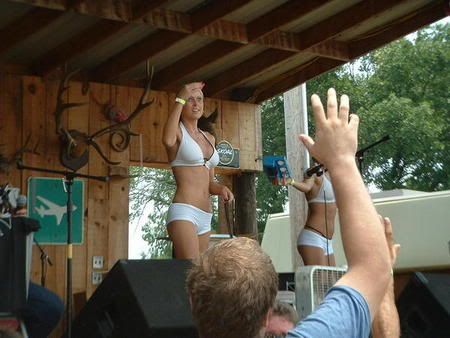 "We should probably get you a different shirt," my wife suggested. She is obviously much smarter than I am.
We quickly found a new shirt and I donned it before anyone was able to ID me.
"How do I look?"
"Like a dork in a tank top, but I love you anyways." My wife gave me her best patient smile.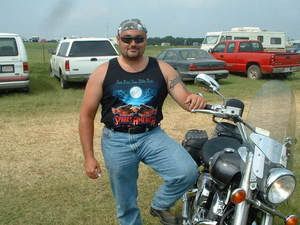 It was blast, an experience that I would recommend that everyone have at least once in their lives.